East Union FFA Chapter competes with over 1100.....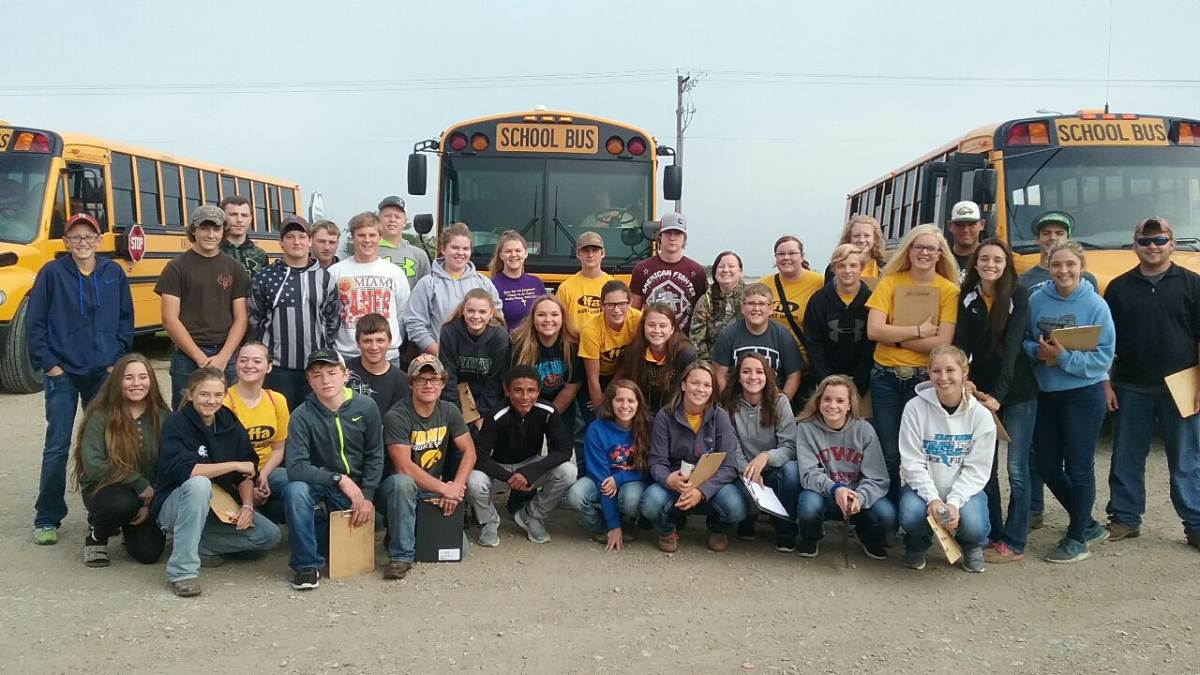 On Tuesday, September 19th, the East Union FFA Chapter sent 39 students to Osceola for career development events day. Learners had the opportunity to compete with over 1100 other Agriculture students from South Central Iowa in events to test their knowledge and
abilities in a number of events. East Union had the 1st and 3rd place teams out of the 50 teams that participated in soil judging and land management. The 1st place team consisted of Kanyon Huntington, Brayden Martinez, and Sidney McFee and the 3rd place team members were Brody Grandfield, Dillon Weis, and Macy McFee. Individually, Kanyon placed 1st, Brayden 3rd, Brody 5th, Sidney 6th, Dillon 11th, and Macy 40th. The advanced livestock judging team placed 6th. Members of the team were Kendra Kirkland, Rakenzy Pryor, who placed 5th individually, Taylor Miller, and Jessica Kelley. There were 108 teams in the Novice Livestock Judging contest and
East Union had 4 teams placing 7th, 14th, 16th and 52nd! Out of 356 competitors, Olivia Cheers was East Union's highest finisher as she placed 9th overall. The novice livestock judging team with Beth McKnight, Olivia Cheers, Dylan Steinhoff, and Jayden Welcher placed 7th. The team of Storm Hoadley, Nate Purdy, and Alex Carrigan placed 14th. The team of Kayden Kirkland, Levi Exline, Cole Wimber, and Sherman Hayes placed 16th. Also,the team of Gage Mitchell,
Jarryn Stephens, Ethan Mitchell, and McKenna Cass placed 52nd. The advanced FFA knowledge team with Lauren Hadley, Callie Gossman, and Kamren Fry placed 3rd. In the novice horse judging competition, RaeAnna Price placed 38th. The dairy foods team with Taylor Purdy, Blake Wuebker, Amber Lacena, and Haylee Beals placed 11th and another team with Jordan Jones, Kiefer Welch, and Anthony Smith placed 15th. In the vet science competition, Grace Nixon placed 27th and Josie Franklin placed 44th. Casey Allen brought horses and helped conduct the horse judging event. East Union was well represented with the learners participation in the various events!
Rakenzey Pryor
East Union FFA Reporter